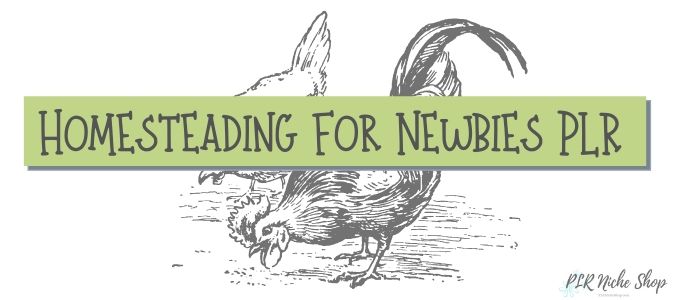 Evergreen Niche Hottest Topic On The Market Today! Homesteading And Being Self-Sufficient! Over 27,400 Words In These Done-For-You Articles, That You Can Add To Your Website Today!

"Everyone Online Is Talking About This Topic! They Want To Learn How To Be More Self-Sufficient And Start Living A Homestead Lifestyle No Matter Where They Live!"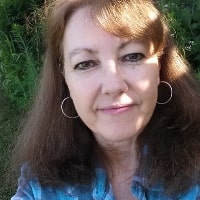 Dear Friend,
As a fellow homestead blogger, and a person that actually lives on a farm. I always keep my eyes and ears open when questions pop up on social media, that I can blog about.
Everyone is talking about homesteading right now! And asking a lot of questions!

My blog has exploded with new subscribers and my affiliate sales have grown like crazy the past few months.
Homesteading is an evergreen niche that can give you a nice profit for most of the year, just with ads and affiliate marketing. If you add a course or two then your income could be year round.

It does slow down for me in the Winter months only to explode again, in early Spring. That being said, many people are wanting to learn all about homesteading, but many are trapped in an apartment for the time being. I see this all the time.
People want to start being more self-sufficient and learn how they can start doing little things that will help them become more independant. But dream of eventually making the move out to the suburbs and getting a couple chickens.
In the meantime, they just want to learn new skills that will get them started. I've written these articles just for the Newbie Homesteader in mind. Packed full of information that will not only give them tips on how to start a homestead, but how they can get started right now.
Plus some creative challenges that will get them started becoming more self-sufficient right away, no matter where they live.
This is your new text content. You can modify this text, add more paragraph, change font style or add images by clicking the edit button.
This is your new text content. You can modify this text, add more paragraph, change font style or add images by clicking the edit button.
Why Would You Want To Buy My Stuff?

Because I do all the writing myself. This is not hired out, you'll always know what your getting when you buy my articles and binders.

I research the subjects myself, or have personal knowledge on the topic. I never scrap the internet for my articles. So you'll be getting 100% original material.

You Can Use These Articles For Your Blog(s), Add Them To Your Membership Site, Add Them To Your Autoresponder, Create an Email Course With Them, Give The E-Book as Free Gift To Get More Subscribers or Sell The E-book, etc ...



The list goes on and on what can be done with these articles. The hard work has been done for you! You'll be getting 35 Articles with over 27,400 words, many are over 700 words long! Plus I created an e-book with the articles and added a cover.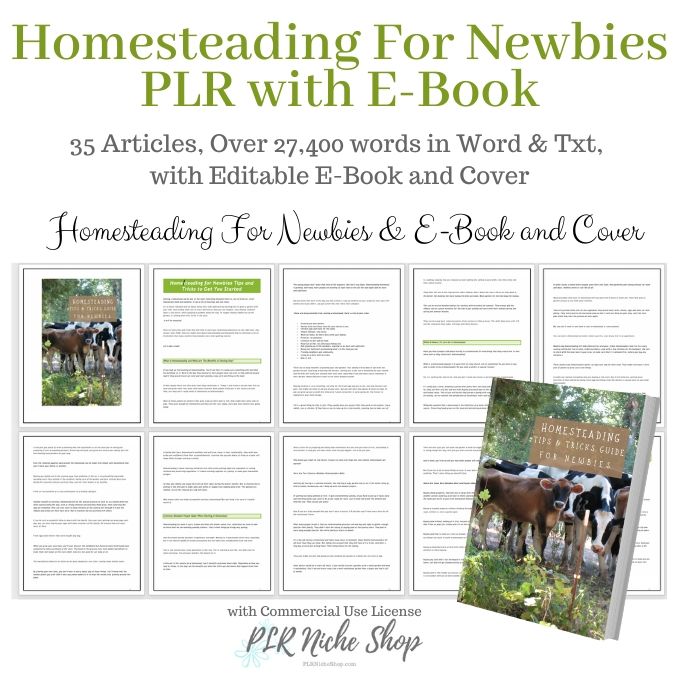 Here's What You Get!

35 Done-For-You Articles with Over 27,400 words all 100% UNIQUE High Quality Content in both Word and Txt formats. You'll also get those articles bundle together in a E-Book Word doc that's editable for Branding, with an Homestead friendly cover that includes an original image that I took from my farm, that you can use.



35 ARTICLES in Bundle, 100% UNIQUE with Editable 91 Page E-Book & Cover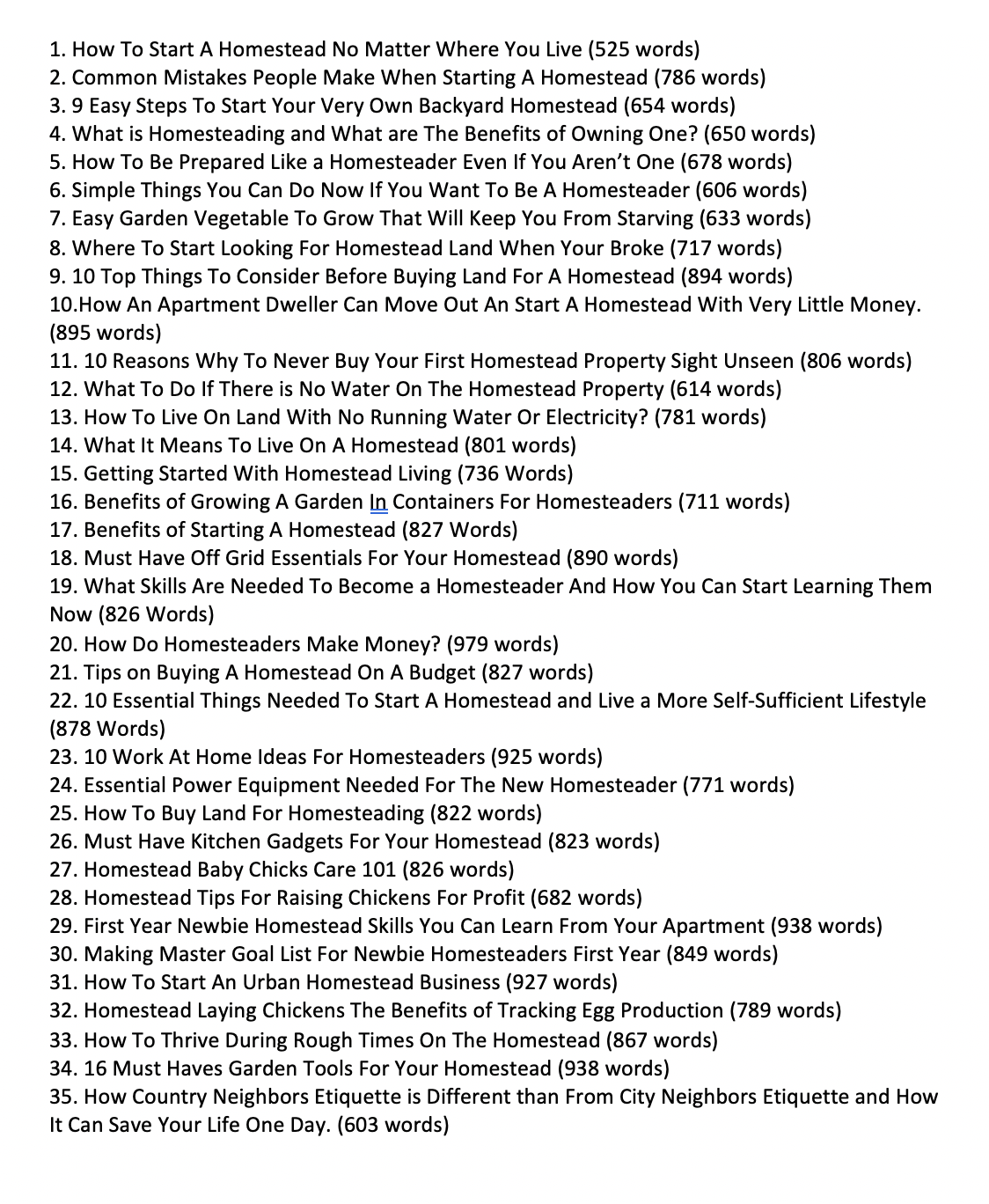 Use These Articles On Your Blog(s)  - How I've done all the work for you! Just copy and paste into your wordpress and publish.

Use To Get Subscribers  - Simply add a subscriber box on your blog and give the E-Book away to get subscribers. (It works GREAT! I do this!)

Use To Earn Money  - Set up an auto-responder your readers to sign up for, then offer up the E-Book for sale at a discounted price.

I've written up articles for you that people have been asking me on social media and on my blog. Since I also live on a farm and have bought land on a budget. I know a few tricks that no one else is talking about on the web.

There are 27,400 words in this 35 article bundle, plus an editable 91 page e-book and cover.

Things people want to know... like how to buy land, how to start a homestead business? How to start homesteading in an apartment? Or how to start being more self-sufficient? I've included them all and then some.


Here's A Sample Of One Of The Articles!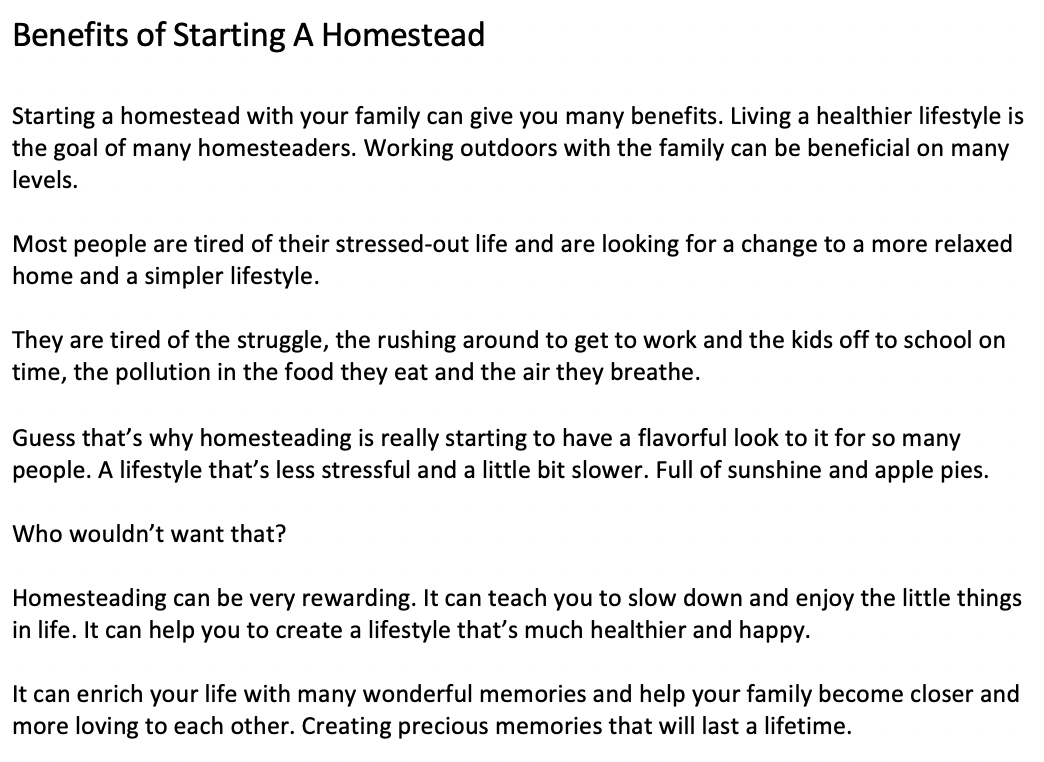 For those of you that buy, you can get access to a upgrade of a 60 page Homesteading For Newbies Binder, with checklists, challenges and more. You can also get the opportunity to purchase the original Powerpoint files.



Order Now To Get Instant Access To Your Content!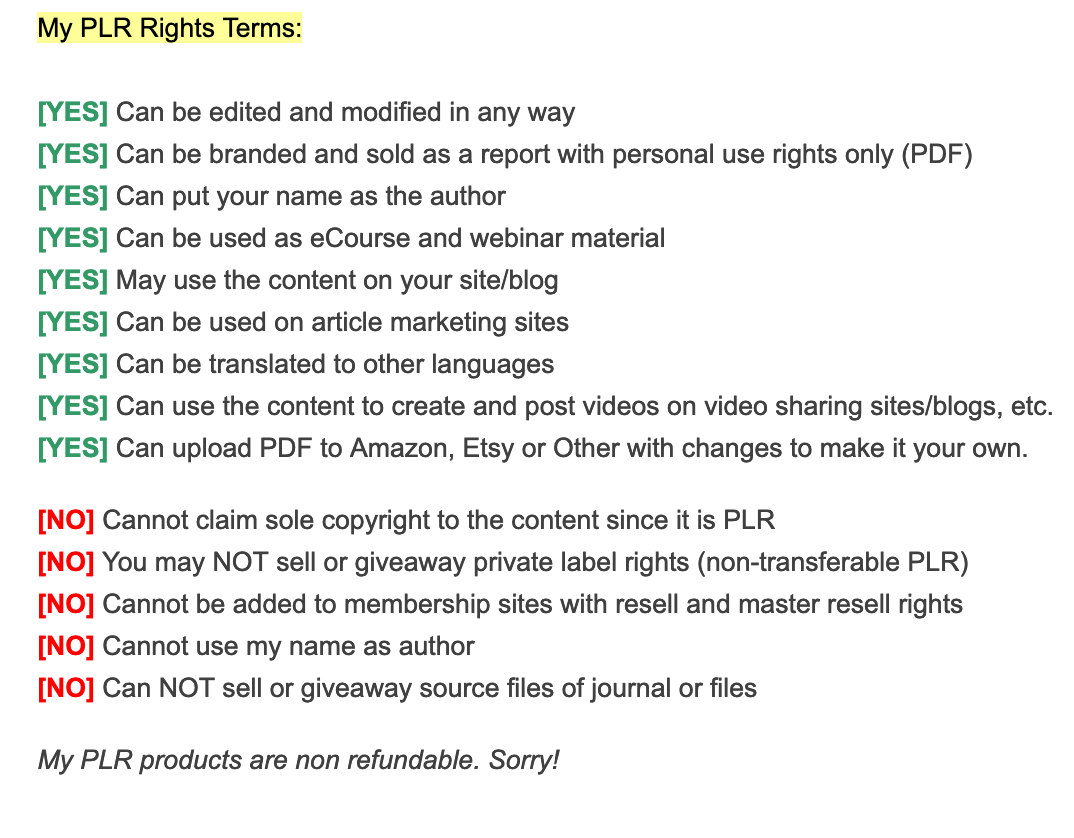 Warm Regards,
Michelle Farmer
PLR Niche Shop

P.S. Grab this unique content before it's gone! There is nothing like this on the web!
P.S.S. Great evergreen niche, that's really HOT right now! Get these articles and e-book and start building your website up with Great content, give the e-book away to get subscribers! Grab them up and get started today!