Evergreen Niche Hot Topic! Over 21,621 Words Done-For-You Articles, That You Can Add To Your Website Today!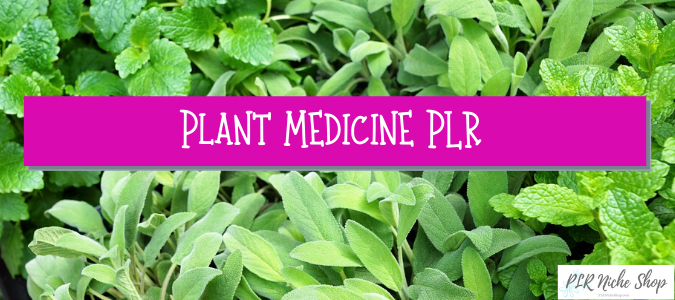 Plant medicine is fast becoming an alternative solution to modern medicine. Not only is it safer to use than drug store medicines, but it's more effective.  
Many homes are now switching out their medicine cabinet with more natural remedies using plants they can find out in their yard.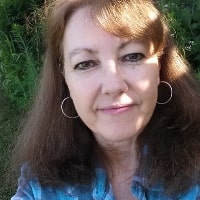 Dear Friend,
Herbal remedies have been used for many years to help everything from the common cold to gallbladder issues. However, sadly many of the herbal remedies are not taught to the children anymore. They have been long forgotten, lost in the past.
Today more than ever, people are looking for an alternative solution to drug store medicines. I've studied plant medicines for many years as a hobby.
I've made a wide variety of home remedies for my family and friends over the years. I can attest that many plant medicines out in the yard work far better than any synthetic made medicine you can buy in the drug store.
With many people are looking for answers to how they can switch out drug store medicines for natural plant medicine! So they can provide safer alternatives to more natural healing solutions for their family.
I created a new bundle of Done-For-You articles that you can use for your niche and start using right away!
Plant Medicine is an evergreen niche and used for thousands of years with great success. The articles can give you a nice profit for your niche.
You can use them for blog posts, opt-in, and or to get more subscribers added to your list.
You can bundle them up into many smaller eBooks and sell for a profit.
The sky's the limit with this bundle.
Why Would You Want To Buy My Stuff?

Because I do all the writing myself. This is not hired out, you'll always know what your getting when you buy my articles and binders.




I research the subjects myself, or have personal knowledge on the topic. I never scrap the internet for my articles. So you'll be getting 100% original material.



You Can Use These Articles For Your Blog(s), Add Them To Your Membership Site, Add Them To Your Autoresponder, Create an Email Course With Them, Give The eBook as Free Gift To Get More Subscribers or Sell The ebook, etc ...

The hard work has been done for you! You'll be getting 35 Articles with over 21,621 words, all over 400 words long, many much more. Plus I created an Gallbladder Natural Treatment eBook with cover in Word and PDF Files.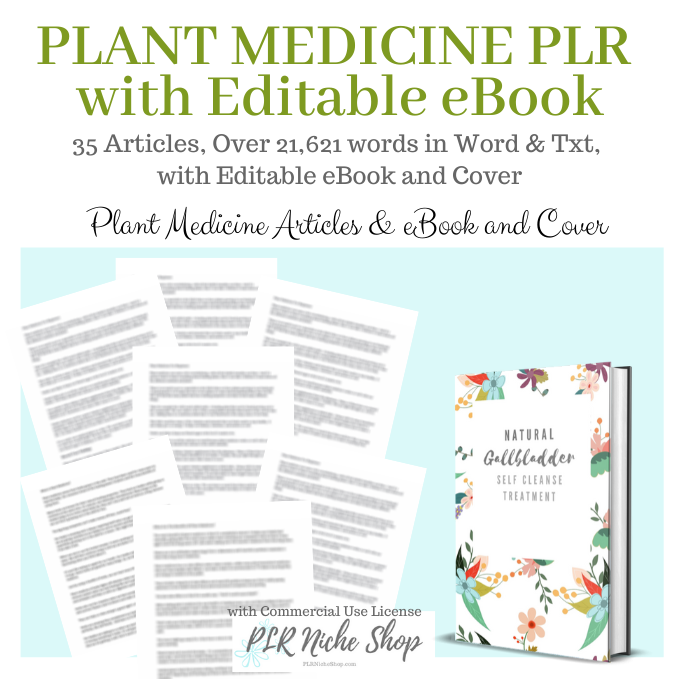 35 Done-For-You Articles with Over 21,621 words all 100% UNIQUE High Quality Content in both Word and Txt formats. You'll also get those articles bundle together in my Gallbladder Natural Treatment eBook Word and PDF Format.

35 ARTICLES in Bundle, 100% UNIQUE with Editable Gallbladder Natural Treatment eBook in Word and PDF Format with Cover

What is Plant Medicine (515 words)
What Are The Benefits Of Plant Medicine (563 words)
Is Plant Medicine Safe To Use (417 words)
Plant Medicine For Beginners (685 words)
Various Plant Medicines To Use at Home (707 words)
Start Your Own Home Apothecary (497 words)
Plant Medicine For Emergencies (627 words)
Why Vitamin C Is So Important But Never Prescribed (648 words)
6 Medical Plants You Can Grow In Your Garden (586 words)
Medical Peppermint Beneficial To Plant In Garden To Use In Natural Medicine (444 words)
Little Chickweed The Forgotten Medical Healer From Your Yard (681 words)
Elderberries To Boost Immunity (489 words)
Harvesting Dandelions For Plant Medicine (475 words)
Goldenseal Found In The Woods As Yellow Root (661 words)
Plantain Natures Bandaid (631 words)
Using Echinacea As Plant Medicine (616 words)
Valerian Root For Stress and Sleep (520 words)
Nettle Wild Plant Medicine (737 words)
Chamomile Plant Medicine For Upset Stomach and More (553 words)
Violet Natures Vitamin C (708 words)
Yarrow Carpenters Friend (742 words)
Ginseng For Long Life (441 words)
Comfrey Bone Knitter (584 words)
Aloe Vera Stomach Soother (511 words)
Plant Medicine Infused Bases 101 (783 words)
Plant Medicine Found In The Kitchen (470 words)
Plant Medicine To Make In Fall (489 words)
Plant Medicine To Make In Spring (585 words)
Plant Medicine To Make In The Summer (570 words)
Lavender For Burns and Sleep (690 words)
Simple First Aid Plant Medicine Kit To Replace Drug Store Medicine (664 words)
Plant Medicine For Cold and Flu Season (796 words)
Plant Medicine For Heart Palpitations (687 words)
Plant Medicine For Anxiety and Sleep (478 words)
Natural Gallbladder Treatment (1371 words)
Use These Articles On Your Blog(s)  - How I've done all the work for you! Just copy and paste into your wordpress and publish.

Use To Get Subscribers  - Simply add a subscriber box on your blog and give the eBook away to get subscribers. (It works GREAT! I do this!)

Use To Earn Money  - Set up an auto-responder your readers to sign up for, then offer up the eBook for sale at a discounted price.

I've written up articles for you that people have been asking me on social media and on my blog. I've use plant medicine on myself and my family for many years now and know a few tricks that no one else is talking about on the web.

There are 21,621 words in this 35 article bundle, plus an editable Step-by-Step Gallbladder Natural Treatment eBook and cover.


Here's A Sample Of One Of The Articles!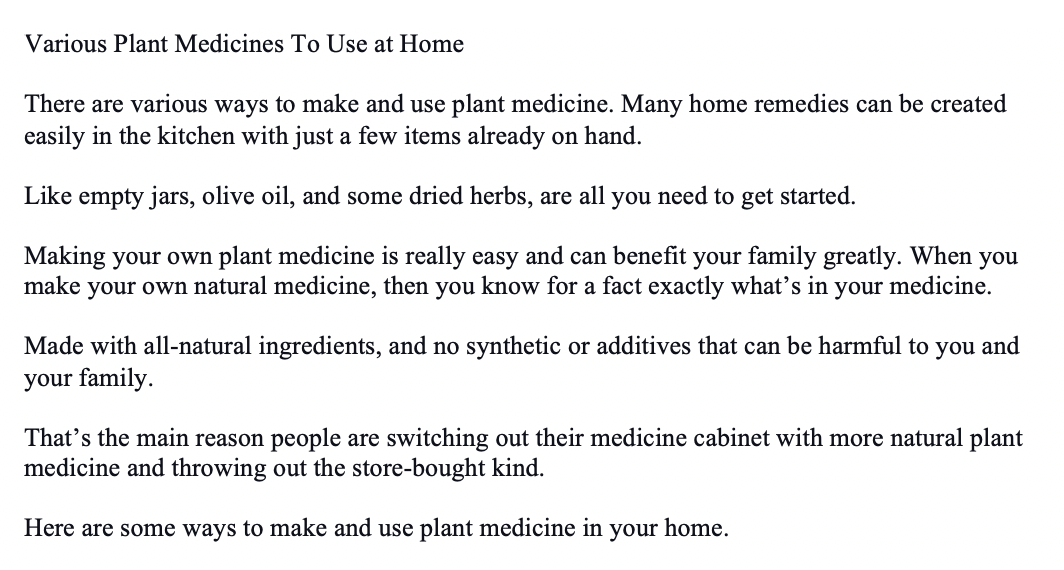 For those of you that buy, you can get access to a upgrade of a 160 page Plant Medicine Binder, with recipes and more. You can also get the opportunity to purchase the original Powerpoint files.

Order Now To Get Instant Access To Your Content!



Warm Regards,
Michelle Farmer
PLR Niche Shop
P.S. Grab this unique content before it's gone! There is nothing like this on the web!
P.S.S. Great evergreen niche, that's really HOT right now! Get these articles and e-book and start building your website up with Great content, give the eBook away to get subscribers! Grab them up and get started today!
*All PLR Products that you purchase from me are non-refundable. PLR Rights Terms: Don't pass on PLR rights to anyone, so your customers only get personal use rights. Do not put my name on it.